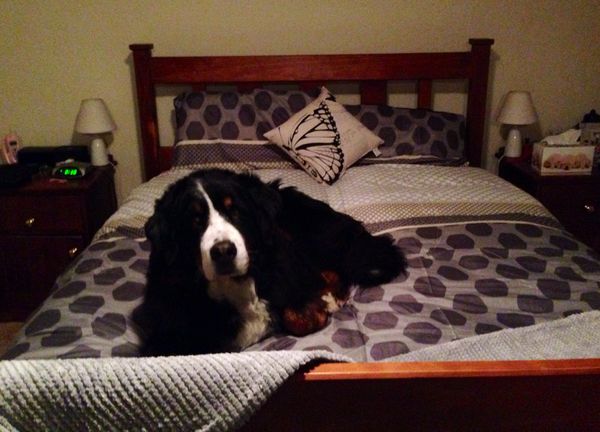 My name is Lindsay Thomson and I am an ANKC Registered Breeder and Judge of Bernese Mountain Dogs in Willunga, South Australia.
I have been in love with this wonderful breed since 2002.

I travel overseas regularly to meet Breeders and their Berners in order to select the very best bloodlines to bring back home and add to our select breeding program.

I have imported 4 males and 3 female Bernese as of 2021 plus the frozen semen from many top males throughout the world. 4 of these 'Frozen' males have already been incorporated into our breeding program (thanks to our amazing Reproduction Vet) with several more to be added in 2022 and beyond.

I have visited USA, Canada, Japan, New Zealand, Sweden, Denmark, Germany, Switzerland, Russia, Norway, France, The Netherlands, Belgium and Finland to attend All Breeds and Specialty Bernese Mountain Dog Shows, meet colleague breeders and their dogs.

I have handled dogs at 2 World Dog Shows (Denmark 2010 and Helsinki 2014) and Bernese Specialty Shows including 4 American National Specialties (2008, 2012, 2013, 2014) Swedish, Norwegian and a Finnish Specialties. Plus the European Dog Show in Oslo 2015.

I am Licensed to Judge the entire Utility Group (Group 6) which includes Bernese Mountain Dogs, I have Judged in Australia, New Zealand, USA and Russia. I am the only Bernese Breeder in South Australia Licensed to judge the entire Utility group. 

Health and Temperament are my absolute priorities whilst still breeding typey, large Bernese Mountain Dogs that can perform as family companions, Show Dogs or Obedience/ Performance dogs. We have 25 Champions to date and have put multiple Obedience titles on our dogs. 

At Vevey we have 1-3 litters a year, I have had excellent success with my small breeding program, consistently being recognised in the All Breeds and Specialty show rings and most importantly, the hearts of their families, be they Show or Companion dogs.
I have an interest in Canine behaviour and training and have a Puppy School Instructor Cert and also a Cert III in Canine Behaviour and Training.

We also offer some handsome, sound minded, health tested boys with pedigrees Unique to Australia at stud to discerning ANKC Registered Breeders of Bernese Mountain Dogs.
We are one of the very few breeders in Australia completing all available health tests for our breeding dogs, if a breeder you speak to doesn't have all their health data publicly available via email, website or www.bernergarde.org then ask them why not?? The health data for Companion puppies is just as important as for breeding dogs, we need to see the whole picture to make the best decisions.   
We all produce good and bad -just like human babies nothing is guaranteed- but, without full disclosure, we can not move forward in breeding the best and healthiest Bernese Mountain dogs we can. We MUST work together to preserve this special breed.
We are members of Dogs South Australia (Australian National Kennel Club Affiliates), Bernese Mountain Dog Club of Victoria, Bernese Mountain Dog Club of NSW, Bernese Mountain Dog Club of UK, Noarlunga City Dog Obedience Club.