Australian Champion Vevey Champagne Supernova (AI)
'Stella'
DOB:9th July 2011
Hips: 1:1 (International Grade A) Elbows: 0:0 Clear
vWD Clear: By Parentage. DM Clear: By Parentage.
DM: SOD1B Clear 
Eyes: AVA-ANKC 12644 Clear
Heart: Clear

PEDIGREE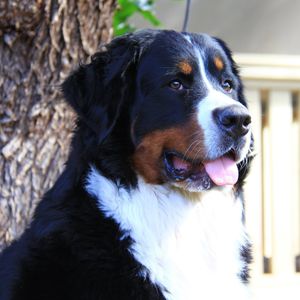 Stella is from our first successful frozen semen puppies.
Her sire is NZ CH Alpenspirit Ocean's Apart, a very jolly Canadian import living in New Zealand.

 Mama Marti had 9 beautiful babies and we kept Stella.
Stella lives with my sister and her husband and son Hamish as a family dog and part time show dog.

Stella is a big strong girl with a beautiful head and excellent bone. She is very out going and
everything is very exciting in Stella's world!

Stella has a litter of 4 to Fil a lovely Russian dog in December 2014.